Lyn Bowtell with special guest Kelly Brouhaha will play at the Palais in Hepburn on Saturday night.
An innovative songwriter, Lyn defies easy classification. With influences reaching from pure country to blues, jazz and pop, Lyn has her own distinctive voice and musical identity.
Lyn's musical journey began in the Country Music Clubs of the Darling Downs and has led her to stages all over Australia and around the world.
Kelly Brouhaha returns with the just released folk country track Poets Troubadors & Me.
'Poets Troubadours & Me',paints a picture of the great Australian landscape and Brouhaha's grief over being locked out of touring throughout much of 2020 & 2021.
Kelly's exquisite voice is accompanied beautifully, by the delicate stripped-back guitar combining classic country rhythms with folk sensibilities.
Brouhaha illustrates the simple joys a life on the road can bring something that was suddenly ripped away from her when the pandemic started.
Throughout the pandemic, many musicians were forced into other industries to survive, the sheer weight of navigating a Covid world as a touring artist proving too much for some.
This tune, however, speaks to the travellers, the poets & the troubadours who could not fathom a world without live music and travel.
A tribute of sorts to those insane enough to navigate border dashes, show reschedules, interstate relocations, and whatever else was necessary to keep earning money from the job they knowand love as Brouhaha elaborates on.
"Before the pandemic hit, my life was relatively simple, I played music and toured with a bunch of different artists around the country, it was great but when the pandemic started that was obviously all ripped from under me and there was a legitimate grieving period that went with that because it was really the only life I knew.
"I wrote this track in a hopeful manner as I kept trying to tell myself that things would get better, and they inevitably have, I was able to get back out touring as part of Festival of Small Halls, last year and we've got big plans for the end of this year so it really is the perfect time to release this single."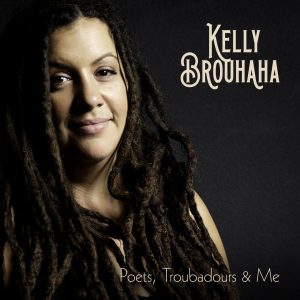 A passionate traveller, she lives (when COVID allows) in a 1992 Toyota Hiace, affectionately named "Pamela Vanderson", and Kelly will be back out on the road soon, as along with the single she is announcing a fresh run of dates.
The new singly is a gentle reminder that the great Australian dream of doing the 'big lap' is not yet dead for those who dare to navigate the constantly changing COVID climate.