It is no secret that house prices in Daylesford and Hepburn Springs are high. But the price increases may have plateaued for the moment.
Real Estate Institute of Victoria (REIV) figures show that the median sale price for houses in Daylesford have remained about the same for the last three quarters.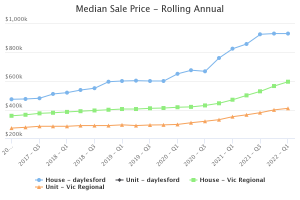 The average price of houses sold in Daylesford for the March quarter of this year was $930,000. This is a massive 55 percent increase from period before the pandemic when average prices were around $600,000 in 2019. Prices were slightly lower in Hepburn Springs.
As a result, Daylesford and Hepburn Springs prices are now high compared to Victorian regional house prices more generally (nearly twice as high) and about the same as Melbourne prices. But unlike local prices,  increases in regional Victoria more generally have not yet shown signs of slowing down.
In the past 12 months to February this year, Corelogic reports that 329 houses were sold in the Hepburn Shire, up 8.5 percent from the previous year. House prices increased by 12.7 percent for the Shire as a whole.
People continue to leave Melbourne and growth in regional house prices is likely to remain higher than in metropolitan areas. This trend is driven by the new work-from-home trend, the comparative affordability of regional housing and better lifestyle appeal. But the ability to commute to Melbourne when necessary remains a significant factor.
In the last 12 months house prices  rose by 9.4 percent  and by 17.4 percent in regional Victoria. The Australian Bureau of Statistics now puts the national average house price in Melbourne at $930,000 for last year – about the same as buying a house in Daylesford.
Rapidly rising interest rates are likely to dampen housing prices for the foreseeable future as borrowers hit the limits of what they can afford. It is also likely that the reopening of metropolitan work places will see a dampening of interest in regional housing.
Local real estate agents at Belle Property, Annette Leary and Will Walton, say that the majority of their buyers rely on the value of the Melbourne market to purchase property in Daylesford. Melbourne prices are now falling and this may correlate with property days on market creeping upward locally. They say that in a tight labour market, they are seeing a trend with more buyers looking to live in Daylesford and work from home.
As the Melbourne market has softened and it is taking longer to sell properties in the Daylesford market, sellers will need to be more flexible depending on the property they have for sale. Local real estate agents say that vacant land and low maintenance rental properties on small blocks remain popular.