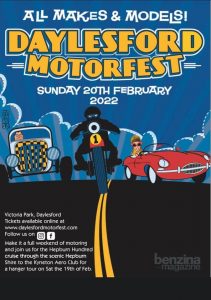 Motorfest is back on Feb 20, 2022. After no event in 2021 due to COVID, over 1000 classic cars and motorcycles will gather at Victoria Park in Daylesford. Great food, coffee, music, trade stands and a fantastic variety for cars to keep you occupied all day.
We are delighted to announce that our media partner is @benzinamagazine21, the premium Australian classic car magazine. We're excited to have them join us on the weekend.
Motorfest raises much needed funds for charities and groups in Hepburn Shire while celebrating the classic motoring scene. Make a weekend of it as there is plenty of great accommodation in Daylesford and the surrounding areas. With entertainment and dining options to suit all budgets it's a great way to spend a weekend.
It's been a tough time since the last Motorfest and a lot has changed but one thing that hasn't changed is the desire for enthusiasts to gather and have a great time. Keep an eye on the website and our social media for all the updates!!