For the artists who run the Vincent Street gallery, Thirteen 05, life after Prague changed. When you're in your thirties with a developing professional career, taking the chance to move to Daylesford to follow your dream to become a professional artist and start a gallery is a risk. But that is what husband and wife, Emma McAdam-Marmont and Struan Hopwood did in 2017.
Both had careers in advertising, where they met. Both had studied art and loved painting in their spare time, often together. But neither thought that becoming a professional artist was realistic.
Emma studied fine art in New Zealand, focusing on photography, which remains central to the way she goes about painting.  Struan grew up South Africa, doodling and drawing his way through school, before studing fine arts in Australia when he move here with his family early in the new century.
Advertising was a safer way of pursing their creativity. But unless you're the creative director, they discovered most of the work is implementing other people's ideas. Not really what either them wanted to do long term.
Struan is the bigger risk taker and he was less happy with the advertising world. The death of a close friend brought home to him that 'life is short' and that there is a moment when you have to take the chance to pursue your passion. It took him a while to convince Emma, mostly as they travelled around Europe in 2016 touring galleries. She finally decided to take the chance and say 'yes' in Prague on May 13 and so the idea for the Thirteen 05 gallery came to life.
Their gallery is elegant industrial chic. Polished concrete paint flecked floors, 'found' furniture and Struan's mural images on the walls with touches of Emma's florals here and there. Struan says the gallery is more Emma's aesthetic, but he helps. They fit the picture, young, attractive, casual.
We sit in the gallery on the found chairs and talk about their art, aspirations and history for an hour or so.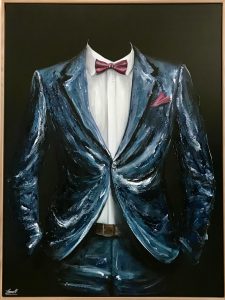 Emma is organised, with an eye for detail, more reserved and private. Her paintings are softer, more interior, tonal and introspective. So far she has two main series.  Her  'suits' explores the way the corporate world's uniform changes subtly from the formal to the informal for younger and older wearers and for women – although that requires attention to detail. The buttons are on the left not the right.
Her more recent series on 'skin and flora' are an exploration of the posture, curves and line of women's bodies. She combines photography with painting. A photo shoot sets up the images she wants to paint. The paintings are  partly driven by her own feelings of modesty and privacy. The work is for women, not the more erotic male gaze. It is subtle, rather than confrontational. She explores the curves and lines of women's bodies in different postures and poses. It's tonal shadowed fabric and skin.
Emma says she is more influenced by conversations and social observation than by art trends and images. Her work feels more interior and introspective. She experiments with linen versus canvas, different brushes, tones, curves and poses.
Struan's art is more rebellious and brash. His is a mixture of street art, grundge and manga. But with an expert illustrators touch. He will explore the idea for an image over and over, sometimes in doodles and line drawings in the diary or anything else that's handy.
On the one hand his work has the contemporary themes of skulls, stylised animals, tags and cartoon characters borrowed from pop culture layered with text and bright colour. This is his 'underneath the bridge' work. Sometimes dystopian, more recently optimistic.
On the other, he has an illustrators eye and technique exploring sci fi and technology images and themes. One of the most striking is his stylised image of a fire fighter against Australian iconography of marsupials, kookaburras and cricket bats. An image celebrating the fire fighters who saved their house in Hepburn Springs when the bushfire went through in 2018.
Struan's work is at the edge of contemporary trends, adapting manga, anime, tattoo, grunge and street art. He is a close observer of  the rapidly exploding images in the online world.
So far the post Prague world is working for Emma and Struan. COVID has been a challenge, but it's also given them time to paint. People like and buy their work and these days they get private commissions as well.
They admit they are still learning and that there have been challenges along the way. It's great when people come in to the gallery, admire the art and buy a piece. It takes more time to get used to people who tell you they don't like the work. But that's art, and meeting the artist and talking about the work is part of the deal of running a gallery.
There is a balance between art and business. The gallery has to be financially sustainable, but not at the expense of the art. Both are getting better at doing the art for themselves rather than worrying too much about other people's reactions. They now have a number of other artists they represent as well.
The risky decision to start a gallery has paid off and they are pleased to be where they are. They recognise it's still early days. The future is still an open question. While they would like to continue to expand the gallery, they want to sustain what they love –  their own work, the connection with people who visit, and the work-life balance they've found in the country.