The picnic shelter in the Wombat Gardens has recently been repaired by Daylesford Rotary. The shelter had a rough time recently when a sizeable tree fell on it.
The Council made some initial repairs, but Daylesford Rotary was concerned there too many risks to the public if a full repair wasn't done. Rotary voted to use its own funds rather than wait for Council. Rotary has had a long term interest in the picnic shelter having built it 18 years ago.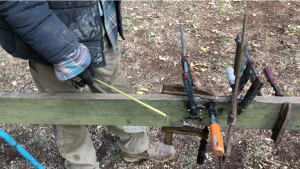 The repairs had the additional benefit of employing a local tradesperson, something that Rotary values. Painting on the rotunda is still to come, but that is best done when the warmer weather comes. Haymes in Ballarat has generously donated the paint with the Rotarians to do the brush work.